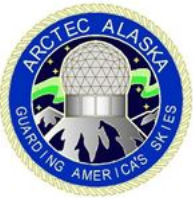 ARCTEC Alaska - Guarding America's Skies.
ARCTEC Alaska is a joint venture project between ASRC Primus and ATCO Structures and Logistics. ASRC Primus is a subsidiary of ASRC Federal Holding Company, the Government contracting arm of Arctic Slope Regional Corporation. ATCO Structures and Logistics is a subsidiary of ATCO Group, an Alberta, Canada based company.

ARCTEC Alaska provides operational and maintenance services at 15 long range radar sites comprising the Alaska Radar System (ARS) and directly supports the North American Aerospace Defense Command. Maintenance and control of these remotes sites are controlled by a Project Headquarters (PHQ) staff comprised of managers, engineers, experienced facilities specialists and electronics technicians, logistics, accounting, and Human resources personnel.